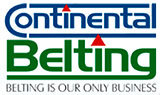 Presenting A Commendable Range Of Chemical Resistant Conveyor Belts, Fabricated Belts, Steel Cord Belts, Bucket Elevator, Rubber Sheets, etc. That Offer Highest Level Of Performance..
Chevron Conveyor Belt
Chevron Conveyor Belt is precisely suited for conveying bagged or bulky and loose materials on sloping surface at angles of less than 40o It is applicable in many industrial applications including coal, minerals, ore and solid duty scrap metal. This anti-slip Chevron Conveyor Belt has top cover cover & cleats are vulcanized integrally. The angle, pitch and pattern of cleat are designed elaborately.
Selection of a height & type of cleats totally depends on the material to be transferred and the inclination angle:
Specification :

| | | |
| --- | --- | --- |
| Type of material | Conveyed Material | H(mm): 15 |
| Powdery | Flour, etc. | 25o |
| Loose flowing | Corn, barley, wheat, rye, etc. | 20 / 25o |
| Loose rolling | Gravel, ground stone, etc. | 25o |
| Packed | Sacks, paper sacks, etc. | 30 / 35o |
| Sticky | Wet sand, ash, wet loam, etc. | 30 / 35o |
| | |
| --- | --- |
| | CONTINENTAL BELTING All Rights Reserved. |