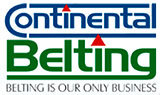 Presenting A Commendable Range Of Chemical Resistant Conveyor Belts, Fabricated Belts, Steel Cord Belts, Bucket Elevator, Rubber Sheets, etc. That Offer Highest Level Of Performance..
Chevron Conveyor Belts
We are considered to bring forth a qualitative array of Chevron Conveyor Belts in the industry. These are designed & fabricated from first-rate raw steel metal and progressive designing techniques in conformity with quality standards set by industry. Our belts features rust resistance, heat resistance, excellent load bearing ability and rugged construction. Applicable in diverse industrial applications like minerals, coal, ore and heavy duty scrap metal, we offer these Chevron Conveyor Belts in different customized options at market leading prices.
Specifications:
These are developed for space saving on erect inclines, even up to 40o, where it delivers enhanced capacity when carrying bulk materials along with a lump size up to 150mm, utilized in different applications like fertilizer, coal, stone, sand, coke clinkers potatoes and so on.

Features:
Excellent option for great capacity conveying at steep angles so as to prevent load slip product roll back
Cleats integrally molded with the top cover rubber inhibiting segregation from the belt
A wide array of design & patterns available
Cleats with elastic rubber compounds and high abrasion resistance for flexibility
Different cleat height & widths accessible depending on the usage need.
Exceptional patterns design makes sure that it has a smooth run on conventional return.
A smooth transition from a conventional flat belt to a chevron belt can be implemented.
Chevron Conveyor Belts produce in all cover grades, like abrasion resistant HR, OR, FR, M24, white hygenic, etc.
Some of the key application:
Wood chips
Heavy duty scrap metal
Sand and gravel
Minerals, coal and ore
Road construction & crushing industries
Waste and recycling plants
Steel pallets
Bagged materials
| | |
| --- | --- |
| | CONTINENTAL BELTING All Rights Reserved. |